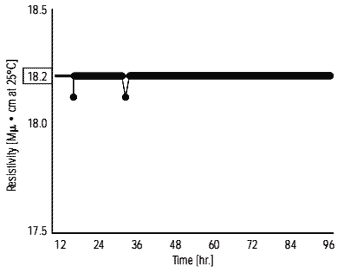 The primary categories of pure lab water was well established for years with ultrapure Type 1 being the most desired for the widest range of analytical instruments, including HPLC, GC, IC, ICP, MS, AA and TOC.
About 20 the researchers percent polled recently by Laboratory Equipment editors indicated that they use Type 1 ultrapure lab water in their work.
This work includes a large number of life science applications, including genomics, proteomics, immunology, pharmacology, cell and tissue culture and drug discovery. Generally, type 2 pure lab water for general lab work, including autoclaves, humidification, glassware washing and rinsing, media and buffer prep and chemical and biochemical reagent prep. General analyzer and environmental applications, when water system suppliers were asked by Laboratory Equipment editors which pure lab water applications they expect to see the most technological growth by 2020 and hence see increasing water quality/purification requirements the largest number of responses came in the spectroscopy.
Actually the largest response was ion exchange systems, when those same suppliers were queried by the editors on which lab water purification systems and supplies they expect to see the most technological growth by 2020. Larry Tucker, VP of Applications and Business Development at Metrohm USA, Riverview, Fla, says microbial contamination in pure lab water systems needs to be evaluated. Water purification systems need to be changed by 2020 to be more 'userfriendly', easier to maintain and more environmentally friendly, notes LabStrong's Gerhard. There is a continuous drive to produce more environmentally friendly water systems that waste less water and consume less energy to produce the desired product water. Firicano agrees on the need to be more environmentally friendly. The most common problem for an end user of lab water systems is using an insufficient or inconsistent extent of water purity for their application. Considering the above said. Improvements in the percentage of water being put to waste is an environmental concern that Darsa says needs some attention.
---
Comprehensive and continuous training programs in water purification for lab personnel are essential, with refresher courses.
The multi pass ultraviolet system irradiates water in three separate passes in the recirculation loop.
The Gemini MB 'ultrahighpurity' water system from Aries FilterWorks provides up to 7 L/min of 18 dot 2 megaohm, 2 micron filtered water. For instance, the dispensing port is continuously exposed to UV for complete sterility at the outlet. Water quality from this system meets or exceeds ASTM, CAP and NCCLS Type 1 specifications. Maintenance and service operation times are reduced with this approach. Generally, this system features easy access to top and bottom openings for using a variety of filtration and media elements. Although, aries also offers its Solaries highcapacity filtration system, that offers a simplified, cost effective and efficient filtration solution. Then again, these products allow users to assemble systems that are optimized to fit specific applications, budgets and lab configurations. Of course, eLGA LabWater also recently introduced its PURELAB Chorus range of lab water systems that offer an enhanced degree of usability and flexibility. Constant, real time TOC monitoring provides confidence in the organic purity of the water. The Chorus Type 1 system applies an advanced PureSure deionization, that removes even trace amounts of ions that could otherwise interfere with ultrasensitive analysis methods, like HPLC, ICP, AES or ICP/MS.
Chorus Type 2 provides reliable, 'highpurity' water with good organic, inorganic and microbial controls. The Chorus features an unique double purification pack and monitoring system that provides guaranteed water purity, no breakthrough of organics, silicon or boron, increased security and capacity gains. While about 20 percent use up to 100 L/day and 5 percent use up to 200 L/day, Nearly a quarter of researchers use up to 10 L/day. While as indicated by the Laboratory Equipment survey, about a third of researchers use up to 5 L/day of purified lab water in their work. I'm sure you heard about this. About 12 percent were expected to be new systems where no preexisting system was in place. With a quarter being additions to existing systems to provide increased capacity, Slightly more than half of these purchases were intended as replacements for existing systems. On top of that, of the researchers surveyed who indicated plans to purchase a new lab water system in the future, about 38 percent stated they've been currently evaluating their system requirements, 12 percent said they should purchase a system within 6 months, 18 percent stated they will purchase a system within 12 months and the remaining 30 percent said they will purchase a really new system in 12 to 60 months.
---